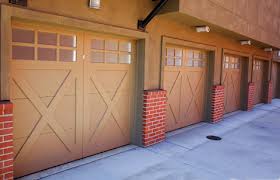 Do you know why you need a fast and trusted garage door service The Woodlands company? Because even a small problem might trigger a bigger one and you may soon find that the overhead door won't close or even go up. At our company, you can arrange the repair of all problems but also their prevention. You can come to us if you want to replace garage doors or convert them. Or if you need to replace the opener or make any sorts of changes to upgrade the system. That's because each and every garage door service plays a role in the good performance and safe movement of the door. And who should you trust more than a company with years in the field and true commitment to its clientele? Choose Garage Door Repair The Woodlands to always have peace of mind.
All garage door service requests are handled professionally
With our garage door service company, you can feel assured that all your requests will be tackled right and professionally. Let's say you want to convert garage doors. A pro will come to check if the garage will still be stable with the removal of the two one-car doors and give you double door options based on the size of your garage. If you simply want to replace the existing door with a new one, a pro will still be there to provide quotation and choices among styles, materials, and designs. You will have great assistance and our company will provide the new door along with the best garage door repair experts in The Woodlands for the installation.
We are at your service for same day garage door repair arrangements
Have no doubt that you can depend on our team to arrange garage door repair in The Woodlands, Texas, with experts and urgently. Spring problems? The door won't open? The cable has snapped? Leave all issues to us. The techs come to troubleshoot and define the roots of a particular problem. They come ready to replace broken springs, pulleys, or cables and can handle any opener service. Call now to arrange for your garage door repair service.
Why let a tiny problem trigger another? Call for garage door maintenance
The best way to avoid a series of problems is regular garage door maintenance. During this preventive service, the techs inspect all parts, the safety features, the balance of the door, and all settings, and accordingly make adjustments and repairs. They also lubricate and inform you of the condition of your door. Such services keep the door running safely for longer.
For every service and each need, there is a pro available to assist you. Simply call us and we will send out an expert for the garage door service in The Woodlands.